Advanced Emergency Medical Technician
Classes
Upcoming Classes
Next Class August 25th- January 11th, 2020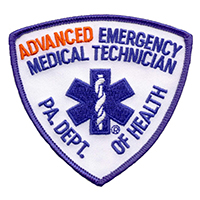 Course Number  – 19102
Cost: $1,500.00
Start Date: August 25, 2019
End Date: January 11, 2020
National Registry Exam Date -January 11, 2020
Students must be a Pennsylvania EMT  in order to be eligible for the course.  You may request reciprocity with the region if you are an out of state EMT.
Students must submit a letter of recommendation from an EMS supervisor within 10-days prior to the class start date.
Class size limited to 24 students.
Syllabus is provided to registered students
This class is at student pace, with weekly deadlines, but you must complete all requirements to graduate prior to the last class date.

Students should anticipate 6-10 hours of online coursework a week
Course work includes weekly quizzes, weekly interactive lectures, weekly responses to case discussions, intermittent online simulations, and intermittent virtual patient encounters.

Clinical & Field Time

Students must achieve a minimum of 30 ALS contacts during their field & clinical time with a minimum of 50% of the patient contacts experienced in the field.
This can be achieved in as few as 24 hours in ER Clinicals and 72 hours in ALS field time, but students should be aware that it may take longer.

Students must be on-site for minimal Sunday Practicals each month for an 8-hour skills Days.
Class 19101- 8/25, 9/8, 9/22, 10/13, 11/10, 12/1, 12/15, 1/5, 1/11  NREMT EXAM Date January 11, 2020
Frequently Asked Questions:
Where can I do my ER Clinicals? Currently, we have contracts with Chester County Hospital and the Main Line Health System. While we are currently pursuing other hospital contracts, we cannot guarantee that they will be ready and available for your class.
Where can I do my EMS Field Time? Students can ride with Good Fellowship Ambulance, Berwyn Fire Department, Malvern Fire Department, Volunteer Medical Service Corps- Narberth, & Longwood Fire Department. Other departments are available with special provisions & will be discussed during orientation.
Can I do field time with my home department? We can try to establish a contract with your home department, but it cannot be guaranteed. Please email clinicalcoordinator@goodfellowship.org for more information about setting up a department as a field site. Field sites contracts must be completed within the first month of class.
What do students do during the practical skills days? Students practice all of the skills in the AEMT scope of practice. Students are in groups of 4-6. Each group has their own task trainers and equipment to ensure that every student gets ample time for student skills checks. Students also participate in patient simulations where they're expected to manage a patient at the AEMT level.
Locations
Good Fellowship Ambulance Training Institute, 3rd Floor
600 Montgomery Ave (Station 55)
West Chester, PA 19380
Payment Information
Credit Cards (Visa/Master Card) Accepted. Payments and/or questions please contact the Training Staff at training@goodfellowship.com or by calling 610-431-2303 daily.
*Please note that if you have a positive criminal history, your ability to be certified as an NRAEMT is at the discretion of the Pennsylvania Department of Health and National Registry of Emergency Medical Technicians. 
Notes
This will require the graduate to pass the NREMT AEMT cognitive exam at Pearson Vue Learning Center once the graduate has successfully completed the National Registry Advanced EMT psychomotor examination.
*Please note you must be 18 years of age prior to taking the National Registry Exams at the end of class!