Good Fellowship Ambulance Club (GFAC) is an emergency medical service that provides basic, intermediate and/or advanced life support services to ten municipalities including the Borough of West Chester, the townships of West Goshen, East Goshen, Westtown, East Bradford, West Bradford, West Whiteland, Thornbury, Birmingham and Newlin.
---
Congratulations to our EMTs, Advanced EMTs and Paramedics for being recognized by the American Heart Association for their expert level care of chest pain patients.
Mission: Lifeline EMS recognition is a program designed to showcase Emergency Medical Service organizations across the nation for excellent STEMI care. Prehospital personnel are the first providers of care to patients suffering from cardiac emergencies. The role of EMS in the system-of-care for these patients is crucial and often sets the course for the patient's outcome. The Mission: Lifeline EMS recognition program is launched in 2014 and continues to celebrate the achievement of the pre-hospital providers and their collaboration with each other and destination hospitals specific to STEMI patient care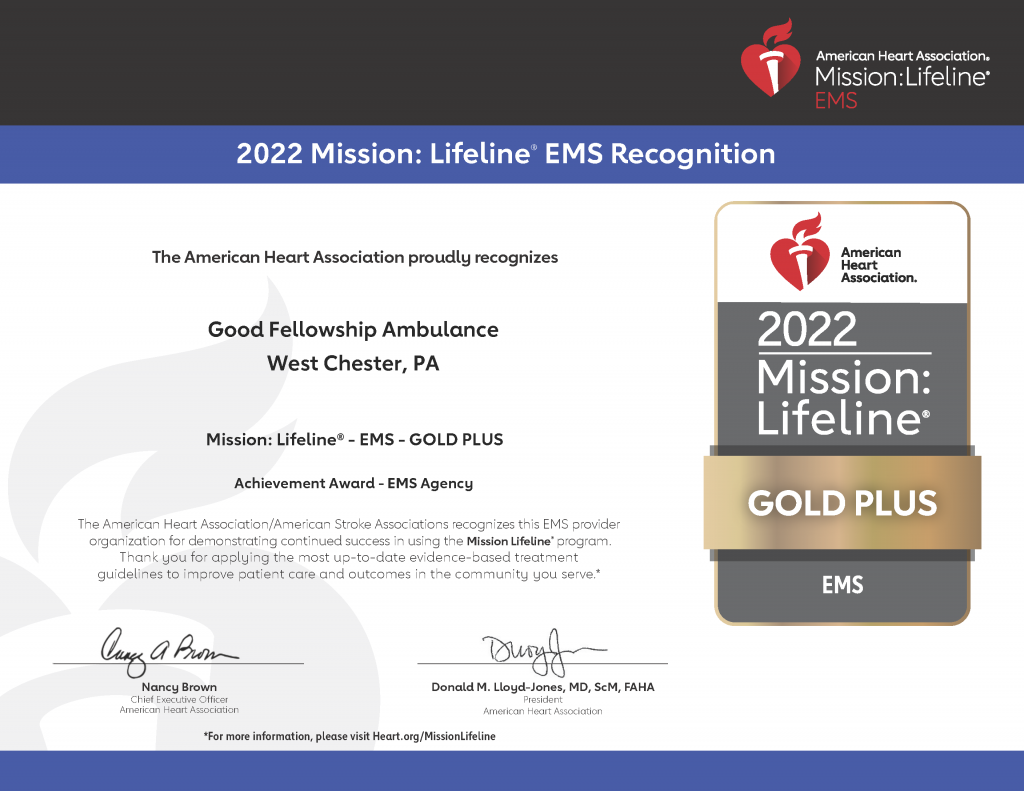 ---
Our Mission:
To provide emergency medical services to anyone in need in our greater West Chester service area. Further, Good Fellowship will provide first aid, CPR and other safety-related educational programs to the community, as well as provide trained qualified personnel to other Chester County emergency service organizations through our EMS Training Institute.