Special Operations Resources
In addition to emergency and non-emergency ambulance transport, Good Fellowship Ambulance provides several special operations units to support large or specialty incidents as well as planned events. 
EMS Bike Team
Formed in 2005, Good Fellowship's EMS Bike Team provides advanced level prehospital care and rapid responses to large, congested community events. Many of our team members are trained by the International Police Mountain Bike Association (IPMBA) and function under IPMBA standards.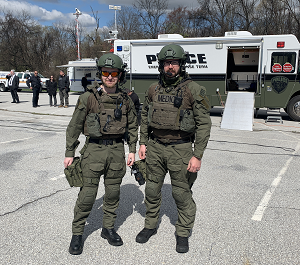 Tactical EMS
Formed in 2020, Good Fellowship's Tactical EMS (TEMS) program has trained and placed a highly experienced group of EMTs and Paramedics with the West Chester Regional Emergency Response Team (WCRERT). WCRERT is comprised of police officers from 7 different police agencies and covers 9 municipalities in the greater West Chester area.

This team is currently comprised of three specially-trained tactical EMS providers, led by Asst. Chief Lenny Brown. Equipped with special medical gear, team members attend trainings and missions. The team provides advanced emergency medical care to injured officers, hostages, suspects and the general public, at the point of injury while on scene during police activities.

TEMS members are chosen through an intensive physical agility test and interview process, which includes representatives from the local SWAT team. TEMS members must be physically fit, clinically sound, and able to make critical decisions in stressful environments.

Special Events
Good Fellowship provides emergency medical services at over 30 special events annually. Attendance at these events range anywhere from 100 to 40,000 people and include events such as West Chester University football games, the Chester County Restaurant Festival, West Chester's Christmas Parade and numerous community events.




Our EMS Bike Team integrates into many special events to allow for easier movement through congested events.




Many large parades and festivals are held in the central business district of the Borough of West Chester. Good Fellowship is equipped with this golf cart to help navigate closed streets and access patients if necessary during these large events. This vehicle can be used to transport EMS providers and patients to and from medical staging areas.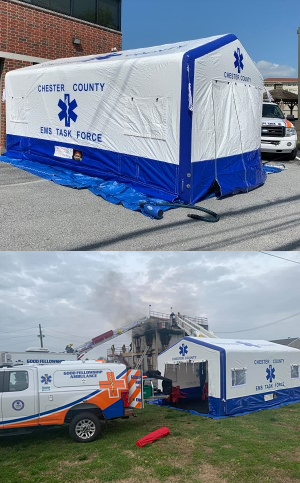 Emergency Incident Rehabilitation
Formed in 2010, the Rehab Unit responds to large incidents throughout the region to ensure the health and safety of first responders.

First responders are at risk of suffering adverse effects from stress or from exposure to heat, cold, or hazardous environments. During the rehab process, the temperature of the person is monitored while they hydrate. Their vital signs are monitored and they are assessed for any illness or injury. According to the United Sates Fire Administration, almost half of on-duty firefighter deaths are cardiac related. Through the process of rehab, it is our main goal to identify first responders with abnormal vital signs or complaints, potentially preventing a cardiac death after intense physical activity during an emergency.

The Rehab Unit is sponsored by the Chester County Fire Chiefs Association, BELFOR Property Restoration and the Chester County EMS Council. Their contributions ensure that rehab services are available to all Chester County first responders. We also thank Lucky Sign Shop for their support of the Special Operations trailer.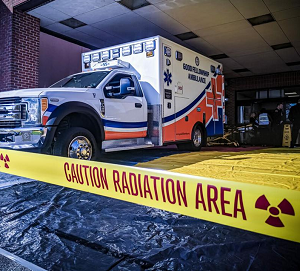 Radiological Emergency Response Team
Formed in 2019, Good Fellowship's Radiological Emergency Response Team is trained and evaluated by FEMA to provide pre-hospital and hospital emergency care of radioactively contaminated patients. The team is trained in patient and first responder personal protective measures, equipment preparation, and deployment and decontamination procedures. This team works in conjunction with the Chester County Department of Emergency Services, Berwyn Fire Company, Chester County Hazardous Materials Team and the hospitals in Chester County.